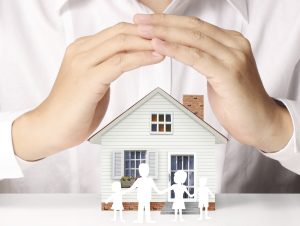 Let's face it, none of us our fans of insurance… that is until we need it. Your home is the biggest investment of your lifetime so you can't risk not having homeowner's insurance. If you were to lose your home in a fire or natural disaster, you would be faced with enough hardships… not having insurance does not need to be one of them. Home insurance will cover the expenses that you are not able to even if you have set aside an emergency fund. Just knowing that you are covered should the worst case scenario occur will provide you with peace of mind which does not come with a price tag. Could you imagine having to come up with thousands of dollars to repair your home because your coverage is not enough? If ever tragedy struck, you would want to be prepared. Homeowner's insurance is essential, however it will not cover everything. That is why it is important for you to understand what your policy covers. The following will show you what your homeowner's insurance DOES and DOESN'T cover…
Homeowner's Insurance Does Cover…
Homeowner's insurance typically consists of multiple types of coverage created to protect you financially should you need it. The most common coverage that homeowner's see on their policy are…
Property Coverage (Your Personal Belongings) – In the event that someone breaks into your home and steals your valuables, your homeowner's insurance will cover the property that you lost. Personal property coverage will also cover the items inside your home from your clothes and jewelry to furniture and electronics, and art and collectibles. However, there is generally a set dollar amount that will be covered.
Dwelling Coverage (Your Home) – Should a fire cause your home to burn to ashes, a tornado remove your roof, a thief breaks in and steals your valuables– you will be thankful that you had homeowner's insurance to assist you as you navigate how to handle these situations. Majority of basic homeowner's insurance policies include dwelling coverage. This type of conversation will cover the cost to repair or rebuild that are a result of situations such as… theft, vandalism, fire, lightening, hail, and vandalism. Areas that will likely experience hurricanes including Florida, Louisiana, and other coastal states and cities. Fortunately, homeowner's insurance often covers wind damage but unfortunately it does not cover flood insurance. You will need to get a separate flood insurance policy.
Other Structures Coverage (Other Structures) – Detached garages, tool sheds, swimming pools, gazebos, pool houses, and even your fence are likely covered by your home insurance policy should they become damaged. When it comes to coverage on other structures, your policy will only cover a portion of the amount of coverage you have on your dwelling, most often is 10% If you have a $250,000 home, your insurance will cover up to $25,000 of damage to other structures on your property and get them repaired or replaced.
Personal Liability Coverage (Personal Liability) – Having liability protection on your home insurance policy is a great investment. Liability insurance will protect you in the event that you face a lawsuit for property damage or bodily injury within your home. Not only will this coverage cover damages or hospital bills that you are held accountable for but it will also cover legal representation. It is relatively inexpensive and certainly more affordable than the price you might have to pay without it. We advise carrying at least $500,000 in liability insurance. Not carrying the risk will make it one of your easiest purchases.
Additional Living Expenses (ALE) – Whether you are forced to relocate for a week or several months, additional living expenses coverage will help you cover the expense of having to live outside of your home. This protection will kick in if your home is damaged as a result of an insured disaster. It includes hotel bills, meals, pet care, and moving expenses and was designed to help you cover expenses above your usual living expenses while your home is being repaired or rebuilt.
Homeowner's Insurance DOES NOT Cover…
Many homeowners do not consider disasters such as floods, tornadoes, and earthquakes when they are choosing their homeowner's insurance policy. This is a big mistake as these natural disasters are not covered under a normal policy and can prove to be quite costly. This is why it is essential that you work with your local agent to make the best decision for your home.
Flooding – Standard homeowner's insurance does not cover flood damage to your home. If you live in a designated flood zone, it is imperative that you add a flood insurance policy to your existing homeowner's insurance policy.
Earthquakes – Earthquakes can cause severe (and expensive) damage to your home including cracking your foundation. A standard insurance policy will not be able to provide you any assistance in the event of an earthquake. If you live in an area susceptible to earthquakes, talk to your agent about adding earthquake coverage to your policy.
Sinkholes – Homeowner's insurance will not cover sinkholes unless you reside in Florida or Tennessee, where it is required for insurers to offer sinkhole protection. If you live in one of the few states that experience sinkholes often, you should probably consider adding this additional coverage.
Maintenance Issues – Most often homeowner's policies will not cover damage caused by mold, termites, busted water pipes or sewage backups. You should do your best to keep your pipes warm when temperatures drop in the winter and keep your home treated for pests and insects to avoid an unexpected, costly bill.
Rollins Insurance represents multiple A-rated insurance companies to make sure we deliver the most competitive rate packages to our clients in Kentucky and Ohio.
Contact us (859-781-7283) for more information or get a free quote!
—
About Rollins Insurance 
Rollins Insurance is an independent insurance agency providing our clients the best prices with the most coverage possible since 2008. We represent multiple A-rated insurance companies to make sure we deliver the most competitive rate packages to our clients in Kentucky and Ohio. We find that most people are under-insured and over-paying when we meet them. We love what we do and our primary business is Personal Auto, Homeowners, and Life and Health insurance. We are a family-owned and managed business that specializes in providing needs-based insurance services.
>> Learn More About Us and Our Staff