Let's first define GAP insurance. Gap insurance is an optional car insurance coverage that helps pay off your auto loan if your car is totaled or stolen and you owe more than the car's depreciated value. GAP is an acronym for Guaranteed Auto Protection. Gap insurance may also be called "loan/lease gap coverage." This type of coverage is only available if you're the original loan or leaseholder on a new vehicle. Gap insurance helps pay the gap between the depreciated value of your car and what you still owe on the car.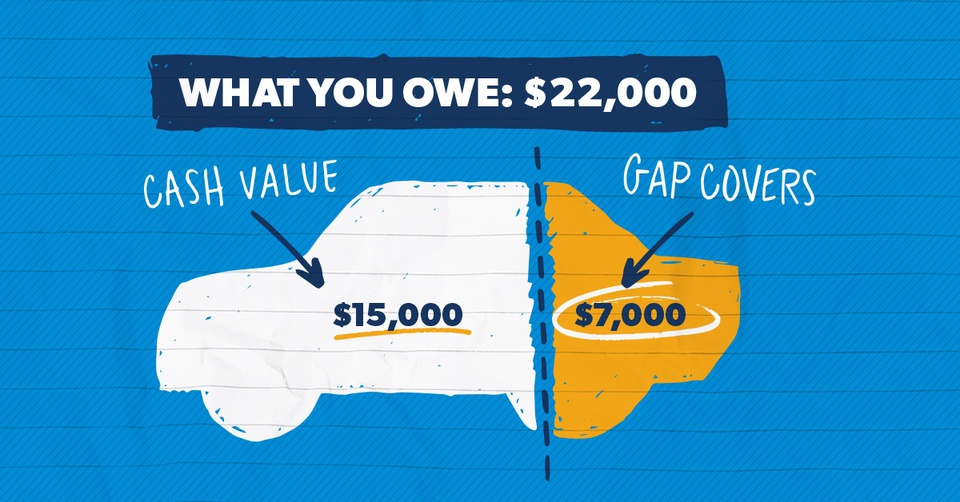 Where Should Gap Insurance Be Bought?
There are two places you can buy a gap insurance policy, from the finance company at the dealership or from your regular car insurance provider. If you buy from the company who is financing your loan it is usually very expensive and you pay everything up front. You are talking $500 to $700. You add this amount to your car loan which means you are charged interest. So, do not buy gap insurance from the finance company. Check with your car insurance agent and see if maybe the gap insurance is already included in your car insurance plan. Most car insurance policies tack on about $20.00 yearly to your premium to include gap insurance.
Is Gap Insurance Worth the Money?
Most times when you buy a new car you can find yourself owing more on your car loan than the vehicle is worth after an accident. The average new car loses 11 percent of its value the moment you drive it off the dealer's lot. If your car is totaled, your car insurance company is only going to pay you the current value of the total loss car, not the original purchase price. If you owe the bank more than that, you still have to pay the loan. If you do have gap insurance it means you'll be reimbursed for the difference between your car's value and what you still owe. And if you do not have gap insurance then you are responsible for footing the bill for the difference. If you are able to pay cash for your car let your basic comprehensive insurance protect you if you ever have to replace your car from an accident.
What Does the gap Insurance Cover?
It does not matter how your car gets destroyed. weather it is collision, vandalism, theft, flood, terrorism, tornado, or hurricane. If your insurance company deems the car a total loss, your gap insurance will kick in after your basic collision or comprehensive insurance kicks in. So for instance, if you owe $25,000 on the car loan and the actual value of the car is $15,000 The Gap would be $7,000. So the $7,000 is what you would be responsible to pay.
What Gap Insurance Does Not Cover?
Gap insurance does not pay anything other than the difference between what your car is worth and what you owe on the loan if there is a difference and nothing else. It does not cover car payments if you lose your job or go on disability It does not cover vehicle repairs. It does not cover car rental or any extended warranties.
How does Gap Insurance work?
Here are some situations in which gap insurance can come in handy…
If you lease your car
If you finance your car with less than a 20% down payment
If the term of your loan is longer than 60 months
If you finance a car that depreciated faster than the average car. Such as luxury sedans. Most cars lose 60% of their value within the first five years.
Keep in mind that, the car insurance reimbursement goes completely to your auto lender to pay off a car that's no longer drive-able. So your gap insurance pays off your loan but you do not have a car just no debt to the finance company. With no gap insurance, you would be personally liable for whatever the difference would be between what you owe for the car and the blue book price the insurer would pay the lender.
Get an Insurance Checkup Today
Gap insurance aside, if you are curious about your coverage in general or just want to shop around for a better rate, check independent insurance agents who will go through all your car insurance needs for multiple vehicles. Staying adequately insured means reassessing your coverage each year and adjusting it in response to specific life events. It's important to revisit your insurance policies regularly, list specific life events that typically warrant a change in coverage, and let your agent give you tips and tools for managing your insurance.
Rollins Insurance represents multiple A-rated insurance companies to make sure we deliver the most competitive rate packages to our clients in Kentucky and Ohio.
Contact us (859-781-7283) for more information or get a free quote!
—
About Rollins Insurance 
Rollins Insurance is an independent insurance agency providing our clients the best prices with the most coverage possible since 2008. We represent multiple A-rated insurance companies to make sure we deliver the most competitive rate packages to our clients in Kentucky and Ohio. We find that most people are under-insured and over-paying when we meet them. We love what we do and our primary business is Personal Auto, Homeowners, and Life and Health insurance. We are a family-owned and managed business that specializes in providing needs-based insurance services.
>> Learn More About Us and Our Staff